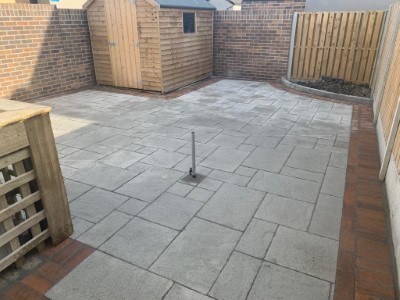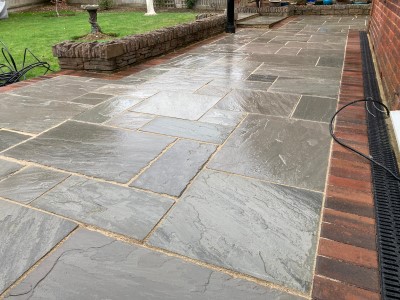 Are you interested in creating a new patio at your home in Croydon? Why not call AD Groundworks for a free estimate from one of our patio designers. They can provide you with a tailored quote on Indian sandstone, limestone, patio tiling and the more affordable option of concrete riven slabbing for customers on a budget.
A patio when it is built right can provide you with a place to relax throughout the entire year with options on covered seating areas, garden pathways, new lawns, artificial grass and decorative walling that can go along with your new hard standing patio area.
Indian Sandstone, Porcelain, Limestone and Patio Slabbing Ideas
Look at some of the options our team can provide you with in order to get an idea or some inspiration over what type of patio or garden would suit you at your home in Croydon.
We provide options on low maintenance gardens such as artificial grass and resin surfacing to roll on turf lawns and porcelain tiled gardens. No job too or too small for our patio designers.
The more affordable for any patio installation is our standard patio slabbing option. From imitation slabbing that mirrors sandstone to concrete riven slabbing and garden paving.
Excellent range of custom choices for building new patios using natural stone such as Indian sandstone, porcelain tiling, limestone and granite patios.
Along with your new patio area, we can provide options such as decorative walling using matching limestone and sandstone to creating curved and bordered pathways throughout your garden.
Out of all the work we undertake at AD Groundworks, designing and building new patios has to be our favourite job. We get the pleasure of watching our customers delight when the ideas they have for their patio come to life.
Want to discuss your patio or garden with one of our contractors? Why not call us on 0208 485 8839 where we can setup a free visit so we can go through the different types of patio slabbing, tiled patios and sandstone patios we can design and build for you.